Agridirect.ie discusses the recent rise in temperatures, and outlines how sheep farmers can protect their flocks from the increasing threat of blowfly.
After several false starts, it seems like summer might finally have arrived. Temperatures look set to reach a near-tropical 22 degrees in the south and east of the country this week, while the north and west will see a more modest increase to about 18 or 19 degrees. There is double the reason to be jubilant at this sudden uptake in the weather. A bit warmth in the air is great for growth, while we should also be thankful that we are not experiencing the scorching, record heat that the Mediterranean countries are suffering at present.
No room for complacency
While we farmers may celebrate this change in our fortunes, we should not leave room for complacency. Higher temperatures and constant humidity levels are leading to a noticeable explosion in insect life. And although it is always a net positive to see our little six-legged friends thriving during the summer months, we can hardly feel entirely elated.
Blowfly proliferation
There is no doubt that the blowfly is starting to proliferate. We had two cases of maggots in the last week – one on the belly and one on the tail – and we fully expect to have a few more before we bring the ewes in for shearing. In this we fall victim to the weather on both sides. Ideally, in heat like this we would like to have all our ewes clipped and off to the mountain before July; but the generally cold temperatures since January mean that wool is still tight on many of them.
Keys to prevention
Now shearing will, of course, be key to preventing serious blowfly strikes as we move towards the dog days of summer and into the early autumn. But equally important is the selection of the right pour-on. That's why we have decided to put together this short guide to the best treatments for blowfly prevention and management. We hope you find it useful!
Clik
The Clik range of pour-ons are among the most trusted products for preventing serious blowfly attacks in sheep. We stock three products in this range, and you should consider which of these is the best fit for your purposes. All of our Clik products are on sale currently, so now is the perfect time to buy!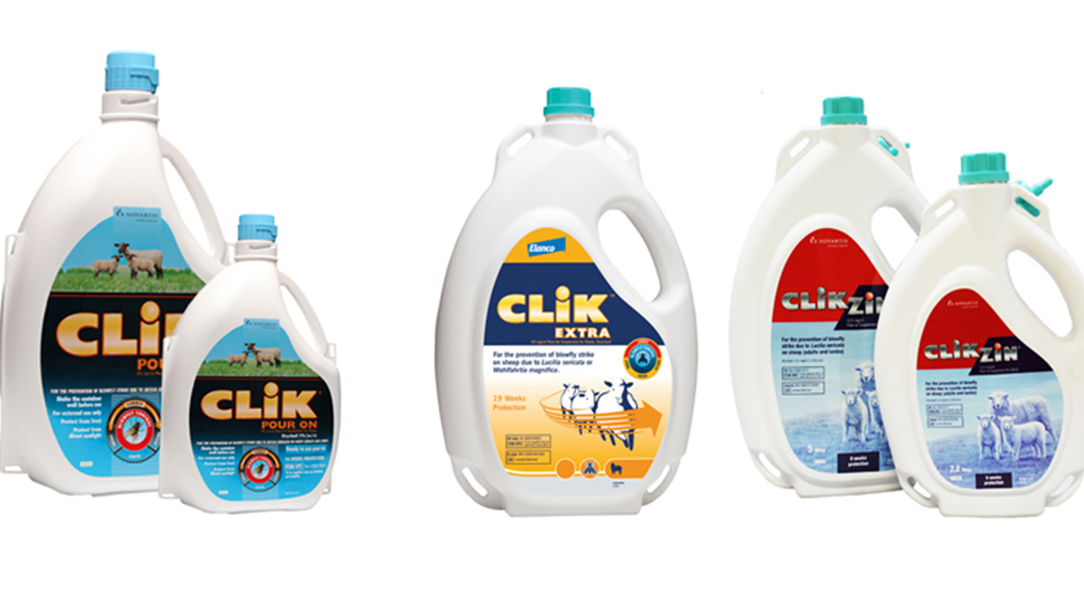 The standard Clik Pour-On contains the active ingredient Dicyclanil. It is effective at preventing maggot outbreaks for up to 16 weeks. However, with a withdrawal period of 40 days for meat and offal, this one may not be the best choice for lambs that you are planning to send to the factory in the summer or early autumn. You should also note that the Clik Pour-On is not suitable for use in animals producing milk for human consumption.
Clik Extra is the most powerful product in this range, and will prevent blowfly strike for up to 19 weeks. It contains the same active ingredient as the standard version, and also has a withdrawal period of 40 days. If you want peace of mind about blowfly up to the late autumn, then Clik Extra might be the best choice for ewes and breeding rams around shearing time. An application of Clik Extra in early June will see your sheep covered until early to mid-October. By then, we would usually expect the inclement autumn weather to take care of the blowfly.
And finally there is Clikzin. Clikzin offers a maximum of 8 weeks' protection against blowfly strike, and has a withdrawal period of 7 days for meat and offal. This makes it the ideal choice for lambs that you want to sell off in August or September, or that are going straight to the factory.
For optimal protection against blowfly strike, the Clik range of products have to be administered with a pour-on applicator gun using the "4 stroke" method. Ideally, when applying according to the 4-stroke method, you should have an assistant to hold the sheep at the head. Then, using your applicator gun, apply Clik as follows:
1) 1/4 sprayed from between the shoulders to middle of back
2) 1/4 sprayed from middle of back to top of animals tail
3) 1/4 sprayed from one side of the animals tail down the crutch
4) 1/4 sprayed from other side of tail down the other crutch
The diagram below offers a useful visual guide for the application of Clik.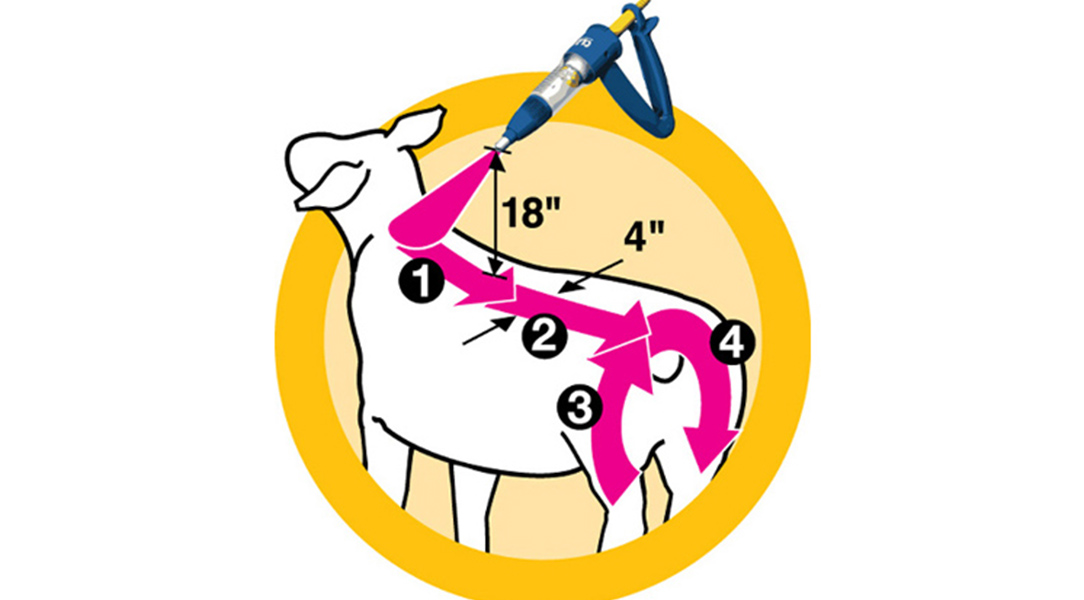 Ectofly and Vector
Other solid choices for preventing blowfly strike are Ectofly and Vector. These are more general-purpose insect repellents, and are used for the treatment and control of ticks, lice and flies. Like Clikzin, they have a 7-day withdrawal period, making them ideal for use on factory lambs. Ectofly and Vector contain the active ingredient Cypermethrin and are effective against flies for up to 8 weeks. They should be applied using a purpose-designed pour-on gun.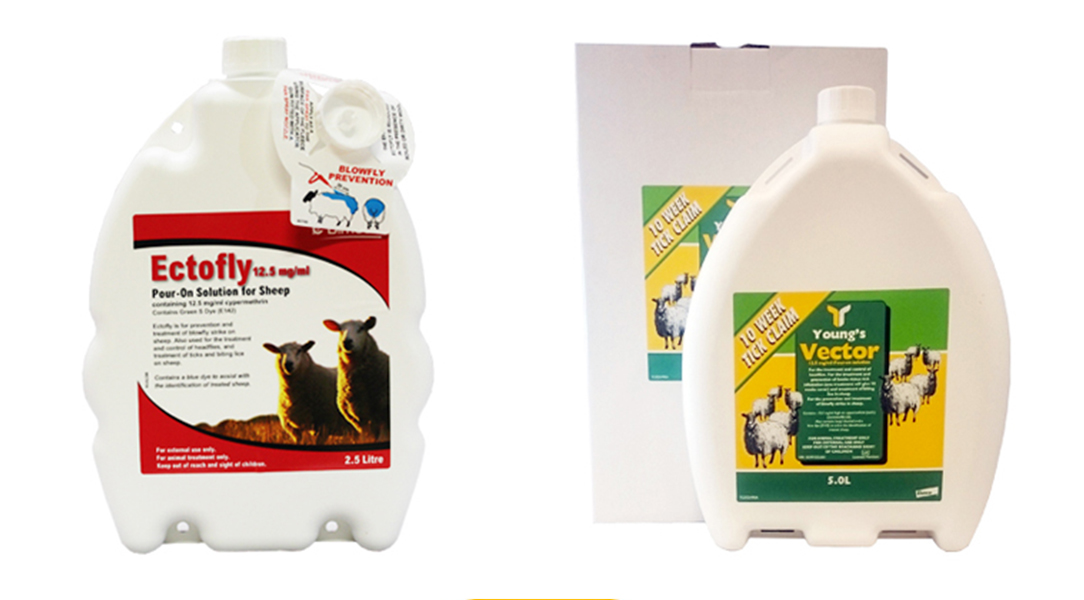 Cyper Guard
And, finally, there is Cyper Guard. This product is designed for plunge dipping, and it is commonly used to prevent and treat blowfly, ticks, keds and scab. It is a pale yellow concentrate dip emulsion and contains the active ingredient cypermethrin (cis/trans 80/20) 10%w/w. When added to water, Cyper Guard readily disperses after mixing, to give a clear microemulsion suitable for dipping.