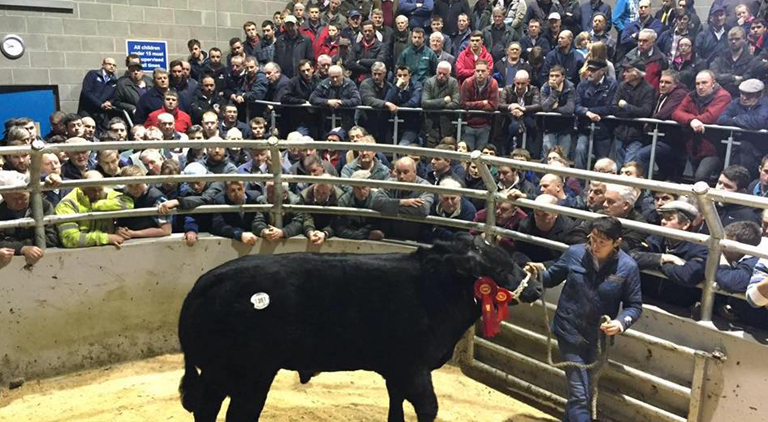 Agridirect discusses how in-person marts were an important social outlet for Irish farmers, and argues for their post-pandemic return. A comic strip on page 2 of last week's Irish Farmers Journal caught my eye. In the foreground of the scene, Taoiseach Micheál Martin engages Agriculture Minister Charlie MacConalogue in conversation.
An Taoiseach: Could we reopen the marts just for the over 80s, Charlie?
Minister MacConalogue: They're all vaccinated Taoiseach, it could work!
Off to the right, in the background, elderly farmers queue up for what looks like a late bar or nightclub. But the sign above the door reads "MART". Another sign, at the top of the queue, sets out the entry requirements: "Over 80s only". A tuxedoed bouncer wearing dark glasses stands in the doorway, checking IDs, ready to turn away anyone not yet an octogenarian.
More than a Sale
It is silly, of course, and it made me laugh. But as I thought about it over the weekend, something about it saddened me, too. The framing of the mart as a nightclub was obviously a joke; yet it seemed to capture an essential and poignant truth.
For many people in rural Ireland, the livestock sale had only a little to do with buying or selling animals. I wondered how many people attended every week, even when they had nothing to sell, and no plans to buy?
The journal comic strip conveyed how the livestock mart fulfilled a more fundamental human need than mere commercial interest. Like the nightclub for young people, or the pub or GAA club for so many of us, the mart was a social outlet before the start of the pandemic. No less than any of those, it offered people a chance to have a conversation, to exchange some news, to enjoy an hour or two of good company in an informal setting. Farmers came from surrounding areas for a day out. The mart canteen and the bidding ring were not just venues of transaction. They were hives of social interaction and good humour.
Isolation anxiety? That's nothing new in rural Ireland
Such an outlet is a rare and precious gem outside of the urban centres, especially for our older farmers. After a year of lockdowns, pandemic anxiety and self-isolations, it is easy to forget that rural Ireland was often a lonely place long before the coronavirus.
Eamonn de Valera's dream of an Irish countryside "joyous with the sounds of industry, with the romping of sturdy children, the contest of athletic youths and the laughter of happy maidens" was an illusion from the start. But that illusion has shattered entirely in recent decades.
The demographics of rural communities skew far older than urban areas, as young people migrate to the cities for work. Much of our older, rural population are farmers.
Considerable numbers of them live alone, often at some distance from neighbours and cut off from support networks.
Indeed, government policy in recent years has gradually eroded what support outlets there were for country people. The closure of rural post offices during the austerity years and the rapid afforestation of some regions by private companies, have compounded the problem. To go from week to week without seeing more than a couple of people is nothing new for residents of sparsely populated parts of Ireland.
Social media and problems shared
Man is a social animal, as the ancient philosopher Aristotle knew. There exists in all of us a need for company and personal interaction. Our innate capacity for verbal and physical language presupposes our need to communicate, to share our thoughts and feelings, to be heard and understood.
When we are deprived of this, most of us succumb, sooner or later, to feelings of loneliness and despair. After the pandemic barrelled into our lives last year, so many of us reflected self-pityingly on how it would affect our own social lives.
If you're like me, you bemoaned the loss of pubs, cafes and restaurants.

Our Facebook and Twitter feeds were inundated with memes about our collective longing for the pub. In a way, these were a welcome consolation. Social media platforms are a poor substitute for physical company, but it was reassuring to see our own feelings of loss and physical isolation shared. Somehow they were made light of through that simple act of sharing.
Voices silenced
When in-person livestock marts closed, and sales moved online, there was no similar tidal wave of social media grief.
No great groan of desperation or consolation vibrated in the cybersphere, to express how much farmers would miss the ringside banter. How could it have? Most people for whom the livestock mart was the only social outlet don't have much of an online presence. They don't have smart phones or laptops to message friends, or to share jokes with people they've never met.
In this pandemic, there is no easy-access platform for them. There is nowhere that could soften the landing from the sudden crash into pandemic solitude. Without the livestock sale to look forward to each week, the loneliness of countless rural farmers, and especially those without family, is more complete than ever.
Theirs are voices truly silenced by the pandemic.
Their opinions go unheard, their hopes and fears unexpressed.
Virtual sales: yes or no?
Most of the discussion around online mart sales has focused on the material arguments for and against.

In the pro column, they say that online sales are the future .
The marts have been a success after a shaky start. Trade has been good. Many younger farmers, who have grown up with "smart" technology have had little difficulty making the switch to virtual sales.
In addition, a lot of them appreciate that the switch to online selling saves valuable time.

In the opposition column are complaints about poor internet quality in rural areas. Shaky signal and system crashes make it hard to bid from the sitting room armchair. Some also point out that a lot of farmers don't have smart phones, so the virtual sale isn't even an option for them.

Arguments for and against online marts have merit. And whatever your stance, there is no doubt that they have served a valuable purpose in an extraordinary time.
Let's get back to in-person sales as soon as we can
But in discussing the merits and drawbacks of online sales, we should not lose sight of what longer term dependence on them would do to rural communities. Monetary matters are important, to be sure, but they are not everything.
Moving forward, we need to recognise that the livestock mart has never been purely about commerce in Ireland. In a sense, the mart is the successor of the local fairs of earlier times. They are part of the lifeblood of rural communities, just as much as the local GAA field, the community centre or the church.
In the post pandemic world, we cannot forget those farmers living in remote parts of the country. We should have consideration for the people who looked forward to the weekly sale as a chance to get out of the house, to enjoy a day of ringside craic and banter. And we should fight to ensure the return of in-person sales as soon as it is possible to do so safely.
Signing off
So that's it for another blog entry. We'd love to hear your thoughts on this topic. Do you think in person sales will return soon? Will we see a shift towards online sales, even after the end of the pandemic? Do you agree or disagree with me on this issue? Whatever your thoughts, we'd love to hear them. Here at Agridirect, we want to know what farmers are thinking about the important issues of the day.
P.S.
I wrote this piece because I live in a remote rural area. Three months ago, I moved back to the isolated, mountainous part of county Leitrim where I grew up, after spending a few years living in Galway city. Looking at my home with fresh eyes, I can see how difficult rural people are finding the loss of the in-person sale and other social outlets.
Loneliness has been a real problem for everybody over the last year, but especially for those who live on their own in the countryside. People who may only have had a couple of conversations in the week, before the pandemic hit, are now having none at all.
So if you have a free moment, please take the time to call an elderly neighbour or friend who lives alone. Ask them how they're getting on, and what they think about all of this pandemic craic. And more importantly, listen to what they have to say with an attentive and sympathetic ear. It could make all the difference in the world! MPG