Choosing the right breeding ram for your farm requires careful planning. It's not simply a matter of walking into the nearest sheep sale, picking out a strong-looking ram and making a bid for him. If this is your approach, don't be surprised if your neighbours are netting better prices than you are at selling time. There is huge variation in the physical traits of sheep breeds, and it is important to bear these in mind when selecting your ram. Before deciding on a breeding ram for their ewes, farmers should ask themselves what they want from their flock.
Maximising output
The successful sheep farmer always aims to optimise the genetic make-up of his flock and ensure maximum results. Usually, his objective is to get as many lambs as possible per ewe come springtime, and achieve the highest weight per lamb at point of sale or slaughter in the following summer and autumn.
There are many factors that dictate the farmer's ability to achieve positive outcomes, of course, and some are beyond his control. In particular, the quality of farmland may dictate that raising lambs from terminal breeding rams is not a realistic option.
Hill sheep
Broadly speaking, Irish sheep owners are split between hill sheep farms and lowland sheep farms. If you are a hill farmer, your breeding choices are much more limited. Many lowland breeds such as Suffolk, Texel and Charolais, though they achieve exceptional lamb weights, simply aren't bred for life on the mountains. Lambs bred from such terminal breeds will be more prone to foot ailments and some other diseases. They won't survive on rocky terrain where grass is of poor quality. To put it bluntly, if your land is all mountain heather and rock, stay away from the big meat breeds.
The best choices for hill farmers are Scottish Blackfaces and Cheviots. These breeds are strong, hardy and far less prone to a range of diseases that will beset the terminal breeds. The Scottish Blackface is a hard, wiry sheep with coarse, "hairy" wool. There are numerous Irish variations of this breed, such as the Mayo, Kerry, Donegal and Waterford types.
The Cheviot is a tall sheep and a long-time favourite of Irish sheep farmers. This rangy and powerful sheep is a traditional dual-purpose type, having softer, better-quality wool than the Blackface but lacking the muscle definition of the terminal breeds. Like the Blackface, it is exceptionally hardy and well-suited to mountain and hill, since it originates in the rugged Cheviot Hills of Northumberland. The predominant Irish variant of this breed is the Wicklow Cheviot, which has a large breeder base in this country.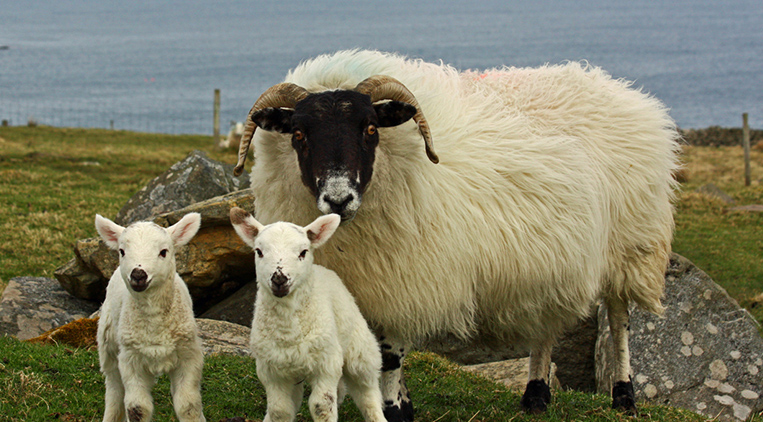 While hill sheep are often pure breeds, the mule cross between a Cheviot and a Blackface yields excellent breeding ewes that have strong sale value. Lowland farmers will pay good prices for "brockie" faced ewes with the intention of putting them to a Belclare or Leicester ram. Ram lambs from mountain breeds are harder to get to good killing weights, and are best sold as stores.
Lowland breeds
Lowland farmers have more scope and will focus to a greater degree on meat production and killing weights. When they want good breeding ewes, they will often buy in mountain ewes as dams for their flocks and then put a larger meat producing ram to them. There is an exact science to this, and farmers will often have an intergenerational breeding plan in place to optimise lamb numbers and live weights for years to come.
Among the best breeding options for lowland farmers is the Belclare. Study after study has shown that these sheep are exceptionally prolific breeders. Even better, the second generation Belclare X ewe will typically yield a high return of lambs. A lot of lowland farmers are now crossing a Belclare ram with a mountain ewe. This cross produces ewe lambs that will be prolific breeders and still have a good strain of mountain hardiness from their mothers. Belclare/Mountain cross ewes make a good cross with a Suffolk, Beltex or Texel ram, yielding strong lambs that will achieve an excellent liveweight for sale.
Similar to the Belclare, though possibly slightly less prolific, is the Blue Faced Leicester. Another great breeder, I know many farmers who recommend putting a Leicester ram to mountain ewes in the first generation, before breeding the ewe lambs from this generation with a Suffolk ram. Again, the point here is to improve the genetic make-up of your breeding ewes before putting them to one of the terminal ram breeds.
Thanks for reading
As always, thanks for reading. If you have any thoughts about the best breeding combination for sheep farmers, please don't hesitate to let us know in the comments section. For more farming content as well as the latest sales on pre-tupping essentials, remember to like us on Facebook and follow us on Twitter and Instagram.