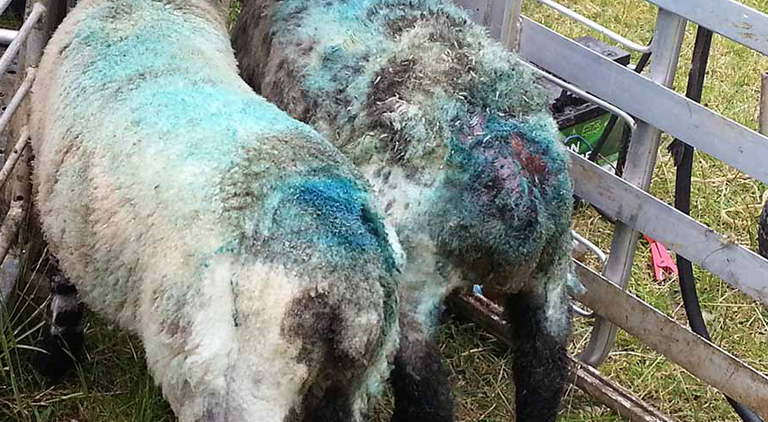 There is an old saying that a wet and windy May fills the barn with corn and hay. If that's the case, there's hope for a summer at the end of what has been, so far, a dismal month. Two nights of frost at the beginning of the month, and windswept days of wintry showers, have stunted any growth we hoped to get over the last few days. And the forecast for the next week makes for grim reading. Temperatures in the low to mid teens, and heavy showers, are about all we can expect.
Still, the last few days have seen a rise in temperatures. While early May offered up daytime highs of 9 and 10 degrees, we now face the prospect of warm rain over the coming weeks. For sheep farmers, this amounts to a period of increased risk. There is no doubt that there has been an explosion in insect life on Irish farms as the colder conditions have, finally, started to make way. At times like these, we have to keep an eye out for the blowfly. Most of us will sharpen our shears in June, but it may be no harm to start thinking about the best preventative measures and treatments for maggots.
That's why this week's animal medicines blog will focus on blowfly strike prevention and the treatment of maggots in sheep. We have a range of products in store now that can give you peace of mind about blowfly infestation during these mild, murky days. Read about them below, and make the choice that suits you best!
Clik
The Clik range of pour-ons are among the most trusted products for preventing serious blowfly attacks in sheep. We stock three products in this range, and you should consider which of these is the best fit for your purposes. All of our Clik products are on sale currently, so now is the perfect time to buy!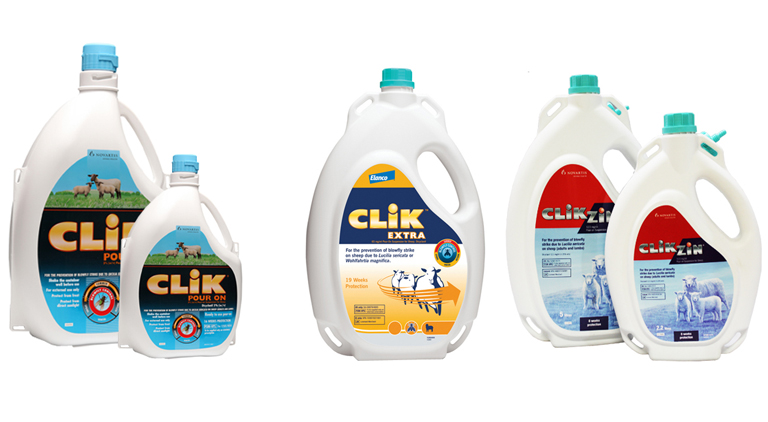 The standard Clik Pour-On contains the active ingredient Dicyclanil. It is effective at preventing maggot outbreaks for up to 16 weeks. However, with a withdrawal period of 40 days for meat and offal, this one may not be the best choice for lambs that you are planning to send to the factory in the summer or early autumn. You should also note that the Clik Pour-On is not suitable for use in animals producing milk for human consumption.
Clik Extra is the most powerful product in this range, and will prevent blowfly strike for up to 19 weeks. It contains the same active ingredient as the standard version, and also has a withdrawal period of 40 days. If you want peace of mind about blowfly up to the late autumn, then Clik Extra might be the best choice for ewes and breeding rams around shearing time. An application of Clik Extra in early June will see your sheep covered until early to mid-October. By then, we would usually expect the inclement autumn weather to take care of the blowfly.
And finally there is Clikzin. Clikzin offers a maximum of 8 weeks' protection against blowfly strike, and has a withdrawal period of 7 days for meat and offal. This makes it the ideal choice for lambs that you want to sell off in August or September, or that are going straight to the factory.
For optimal protection against blowfly strike, the Clik range of products have to be administered with a pour-on applicator gun using the "4 stroke" method. Ideally, when applying according to the 4-stroke method, you should have an assistant to hold the sheep at the head. Then, using your applicator gun, apply Clik as follows:
1) 1/4 sprayed from between the shoulders to middle of back
2) 1/4 sprayed from middle of back to top of animals tail
3) 1/4 sprayed from one side of the animals tail down the crutch
4) 1/4 sprayed from other side of tail down the other crutch
The diagram below offers a useful visual guide for the application of Clik.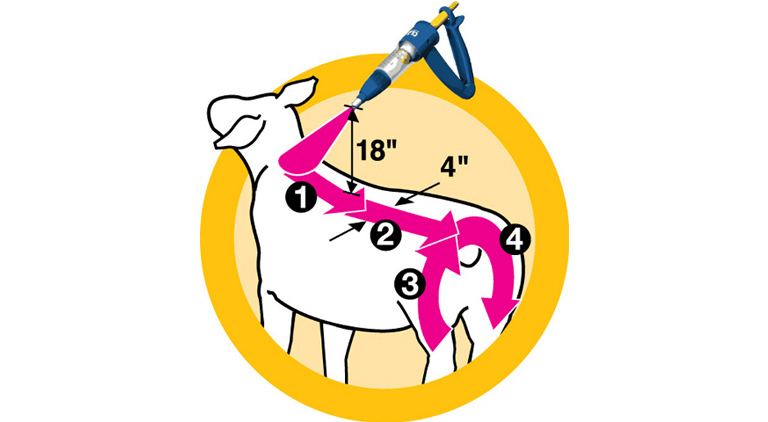 Ectofly and Vector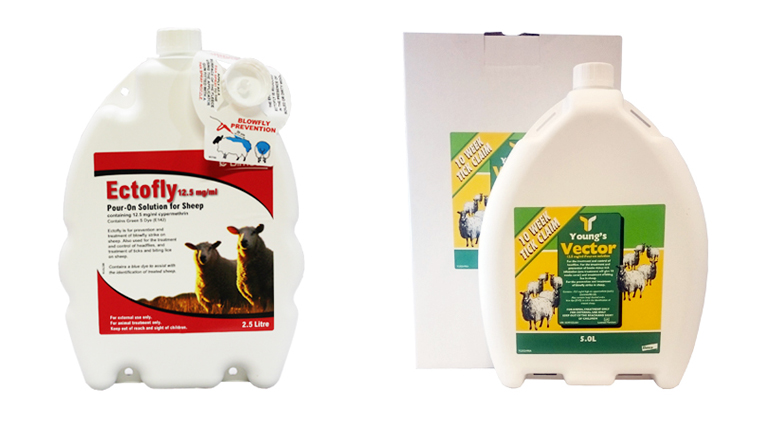 Other solid choices for preventing blowfly strike are Ectofly and Vector. These are more general-purpose insect repellents, and are used for the treatment and control of ticks, lice and flies. Like Clikzin, they have a 7-day withdrawal period, making them ideal for use on factory lambs. Ectofly and Vector contain the active ingredient Cypermethrin and are effective against flies for up to 8 weeks. They should be applied using a purpose-designed pour-on gun.
Cyper Guard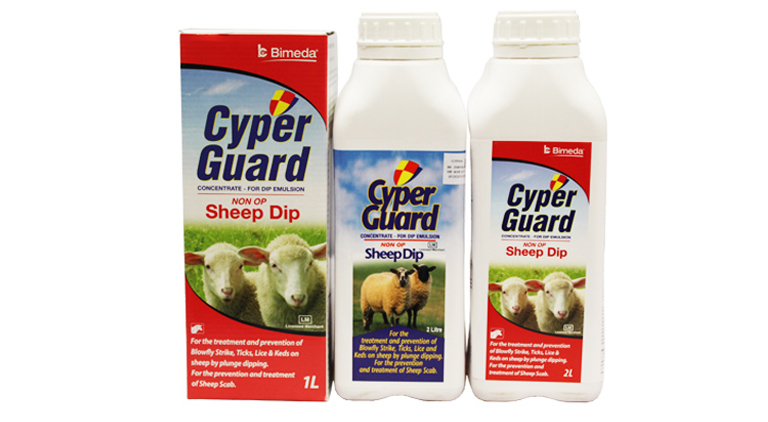 And, finally, there is Cyper Guard. This product is designed for plunge dipping, and it is commonly used to prevent and treat blowfly, ticks, keds and scab. It is a pale yellow concentrate dip emulsion and contains the active ingredient cypermethrin (cis/trans 80/20) 10%w/w. When added to water, Cyper Guard readily disperses after mixing, to give a clear microemulsion suitable for dipping.
The following table shows the amount of dip required to prepare dipping baths of various size:
Bath Size
220 gall.
1000 Litres
350 gall.
1600 Litres
400 gall.
1800 Litres
440 gall.
2000 Litres
500 gall.
2250 Litres
Add
2 L
3.2 L
3.6 L
4 L
4.5 L
Thanks for reading!
So that's a wrap from the animal medicines and supplements corner for another week. Remember that it's not too early to be on the lookout for maggots, especially on lowlands. If you do happen to come across early blowfly infestation, please let us know in the comments section. And, as always, let us know if you have any thoughts or advice on the treatment of blowfly. This really is one of the biggest scourges for sheep farmers, so we strongly advocate pulling together to share our experiences in combatting it!
For more great content and the latest offers, be sure to check us out on Facebook and Twitter!
MPG