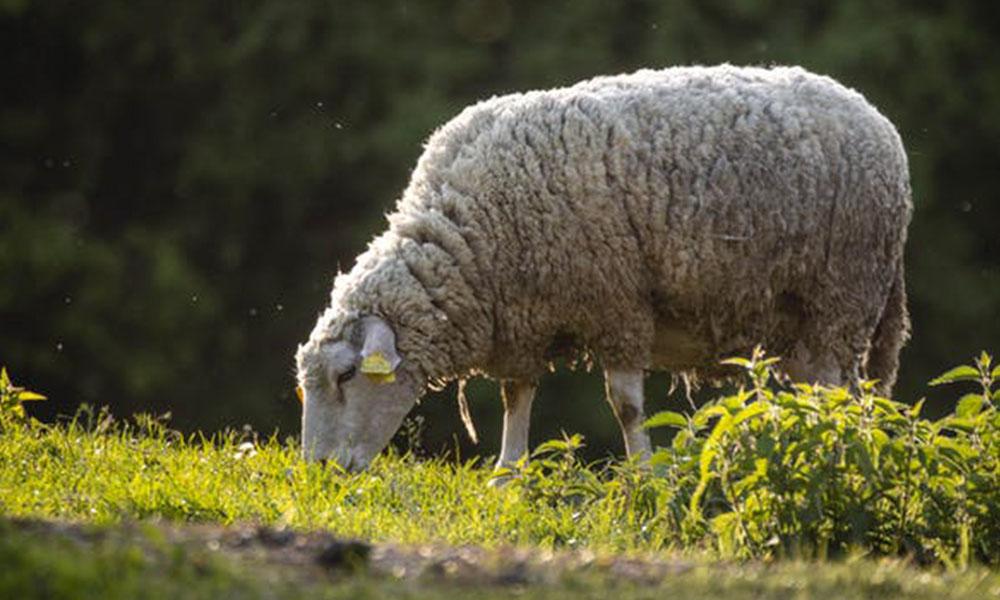 As the sun finally begins to shine over Ireland, we look at the looming threat of skin parasites in sheep and discuss the importance of taking pre-emptive measures to keep them at bay.
Parasites on the horizon
With temperatures hitting the mid-teens this week, and a fair amount of sunshine between heavy showers, there is a real sense that spring has arrived at last. Grass, which has been scarce in most parts of the country until now, has finally started to grow.
As nature returns to life, sheep farmers should be mindful of the various parasitic threats that the approaching summer will bring. Ticks, lice and flies are a serious threat to the overall health and condition of our livestock.
Among those parasites likely to trouble our flock as we progress into spring, few are more frustrating to deal with than the blowfly. True, it is still too early in the year for this scourge to be a real threat. Most of us don't expect to see a first infestation until late May or June at the earliest. That being said, now is the best time to start considering the pre-emptive measures you will take to keep your flock maggot free during the sultry days of summer.
There are many products available on the market designed to deter the blowfly from lighting on sheep, but arguably the best known and most effective of these are discussed below.
Clik
The Clik range of pour-ons are among the most trusted products for preventing serious blowfly attacks in sheep. Here at Agridirect.ie, we stock three products in this range.

The standard Clik Pour-On contains the active ingredient Dicyclanil. It is effective at preventing maggot outbreaks for up to 16 weeks. However, with a withdrawal period of 40 days for meat and offal, this one may not be the best choice for lambs that you are planning to send to the factory in the early summer. You should also note that the Clik Pour-On is not suitable for use in animals producing milk for human consumption.

Clik Extra is the most powerful product in this range, and will prevent blowfly strike for up to 19 weeks. It contains the same active ingredient as the standard version, and also has a withdrawal period of 40 days. If you want peace of mind about blowfly into the early autumn, then Clik Extra might be the best choice for ewes and breeding rams around shearing time. An application of Clik Extra in early June will see your sheep covered until early to mid-October. By then, we would usually expect the inclement autumn weather to take care of the blowfly.

And finally there is Clikzin. Clikzin offers a maximum of 8 weeks' protection against blowfly strike, and has a withdrawal period of 7 days for meat and offal. This makes it the ideal choice for lambs that you want to sell off in August or September, or that are going straight to the factory.
Ectofly and Vector
Other solid choices for preventing blowfly strike are Ectofly and Vector. These are more general-purpose insect repellents, and are used for the treatment and control of ticks, lice and flies. Like Clikzin, they have a 7-day withdrawal period, making them ideal for use on factory lambs. Ectofly and Vector contain the active ingredient Cypermethrin and are effective against flies for up to 8 weeks. They should be applied using a purpose-designed pour-on gun.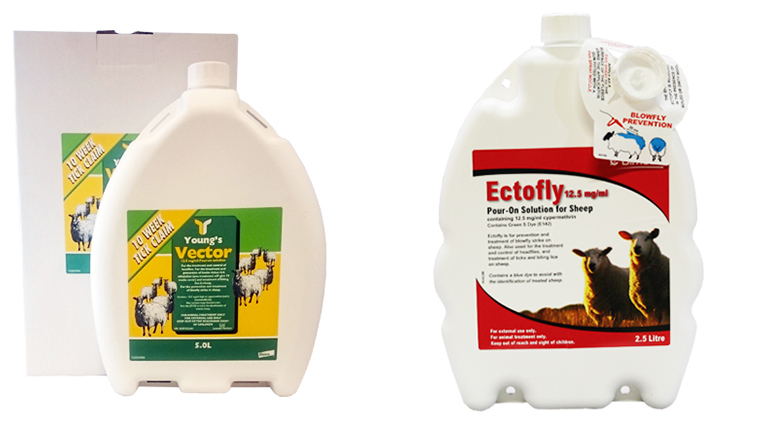 Application is key
Not everyone is aware that the mode of application of these products is key to their effective performance as an insect deterrent. When I hear farmers complain that pour-ons don't work, I wonder how they are applying them.
To correctly apply any of the classic blowfly-repellent pour-ons, you have to use the 4-stroke method. Ideally, when applying according to the 4-stroke method, you should have an assistant to hold the sheep at the head. Then, using your applicator gun, apply your chosen pour-on as follows:
1)1/4 sprayed from between the shoulders to middle of back
2)1/4 sprayed from middle of back to top of animals tail
3)1/4 sprayed from one side of the animals tail down the crutch
4)1/4 sprayed from other side of tail down the other crutch
The diagram below offers a useful visual guide for the application of Clik.