Agridirect offers some advice to farmers and gardeners on the best weedkillers to use in this summer's weed wars!
At war with weeds?
It's that time of year again. And while most of us welcome the milder weather, we can't help but despair that the weeds are getting the upper hand in our endless war against them. My own front street is starting to look like meadow and, try as I might to hack away at the variety of grasses with a spade, there just aren't enough hours in the week to keep them at bay. It may be time for the farmer and the gardener to strike back. Why not take the less labour-intensive option and look for an effective weedkiller over the coming weeks? If you're ready to take action, we have some great news for you! Here at Agridirect.ie, we're running a super early summer sale on some of our most popular weed killers and related products.
Know your weedkillers!
Of course, it's not just a matter of strolling down to the local farm supplies shop and picking up the first product that catches your eye. One size does not fit all. There are subtle differences in weedkillers that may make them more, or less, appropriate as a treatment for your weed problem. For example, some weedkillers are more effective at treating the infamous Japanese knotweed, while others are for use in non-crop areas only and are unsuitable for tillage farming. It is crucial that you choose the right product for the job. So, with that in mind, we have put together a convenient list of our on-sale weedkillers, complete with a product description for each. Have a read through these and then decide what will work best for your weed dilemma. For your convenience, we have also included a brief description of some excellent products designed to ensure that, when you do decide to spray, you can do so as safely and effectively as possible. Happy reading!
Destrol Amenity
Destrol Amenity is a fast acting, long lasting total weedkiller. It is biodegradable, safe for the environment and safe for use around pets. A broad-spectrum weedkiller, it is ideal for the control of annual and perennial broad-leaved weeds and grasses in non-crop areas. As its name suggests, Destrol Amenity is generally used for spraying in amenity areas. It is great for spot spraying along fence lines and established trees and bushes, and also offers excellent weed control on pathways, farmyards, patios and driveways. This product has a formula that is specially designed to kill weeds before they emerge. It is rainfast within 1 hour.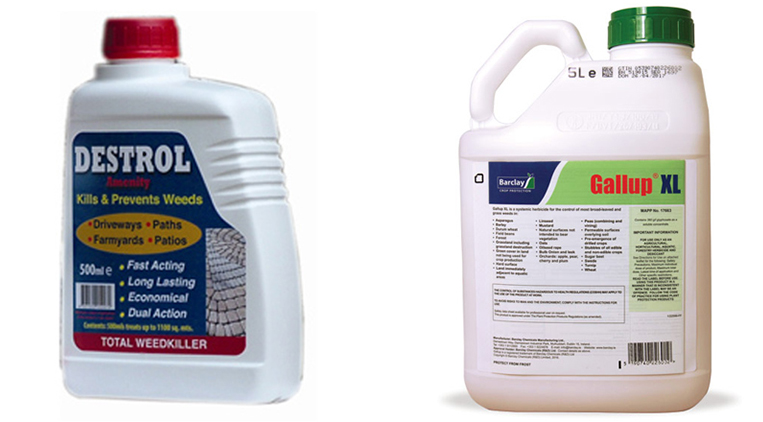 Gallup XL
Gallup XL is very popular among tillage farmers because of its suitability to crop areas. It is effective against a large variety of weeds, and will kill public enemy number 1 – the Japanese knotweed. Gallup XL can be used in both knapsack and boom sprayers, which makes it extremely cost efficient. Farmers should note, however, that it is not safe on clover. If you are planning to have a good crop of clover on your land this year, it is best to stay away from weedkillers entirely. You should spray Gallup XL on growing weeds between April and November. However, some weeds – such as nettles – have different timeframes, so you should refer to the manufacturers label for more information.
Gallup Biograde
For crop areas, Gallup Biograde is another great choice. Like Gallup XL, Biograde is used to control a large variety of annual and perennial weeds, including the Japanese knotweed. The selling-point of Gallup Biograde is that it works at lower temperatures than Gallup XL and is suitable for use on older and heavier swards. Again, remember that this product is not safe for use on clover. Gallup Biograde is easily applied with a knapsack or boom sprayer. It has a standard weedkiller withdrawal time for livestock – animals can return to grazing a sprayed paddock 5 days after application.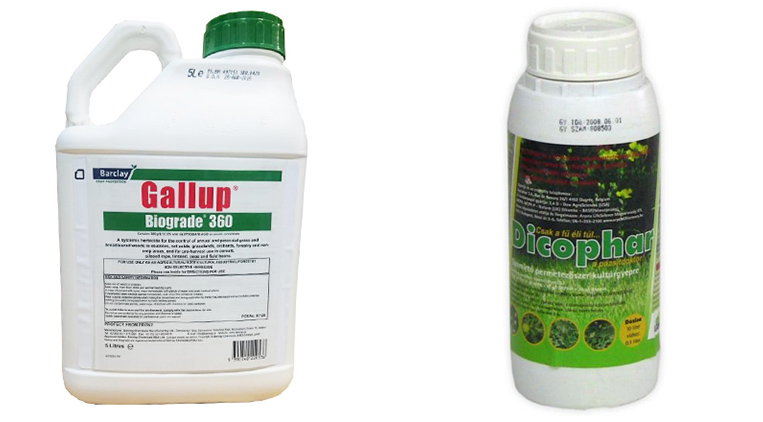 Dicophar
Like Destrol, Dicophar is a perfect product for amenity spraying, but not for tillage. It is a cost-effective spot treatment, and is specially formulated for use on lawns and amenity grasses. This product is suitable for treating a variety of broad-leaved weeds, but is not safe on clover. If you are carrying out spraying for agricultural purposes, it is better to avoid this product in favour of one of the Gallup products. Dicophar is the only weedkiller on this list that does not have the active ingredient glyphosate.
Additional Products:
Blu-Mark
Weedkillers are invisible. For several reasons, it is very important that you can recognize the areas where the chemical has been sprayed. That's where Blu-Mark comes in handy. When Blu-Mark is diluted in your weedkiller solution, you will be able to recognize what areas you have missed while spraying. This will prevent you from spraying the same areas twice. In addition, in the days after spraying you should keep away from the affected areas. as you will want to avoid this space for a few days.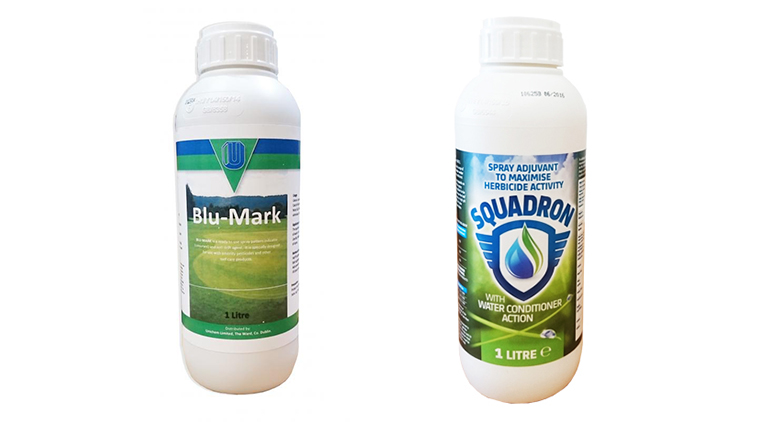 Squadron
Squadron is an additive used in conjunction with your weed killer to improve the overall performance of the product, and to condition water subject to hardness and high pH levels. It is difficult to overstate the importance of this function, as hard water has a detrimental impact on weedkiller performance. Thanks for reading! So that's it from our product promotions corner for this week. Again, the products listed above are currently on sale at Agridirect.ie. But they are not the only weedkillers available in-store and online at the moment. We sell a wide range of weedkillers, including Roundup, at the keenest rates – so please be sure to check out our products here. If you want some specific advice on managing Japanese knotweed, check out our excellent blog from 2018, available at this link. As always, if you have any suggestions about the best ways to manage weeds this summer, please let us know. We'd love to hear from you! Thanks.