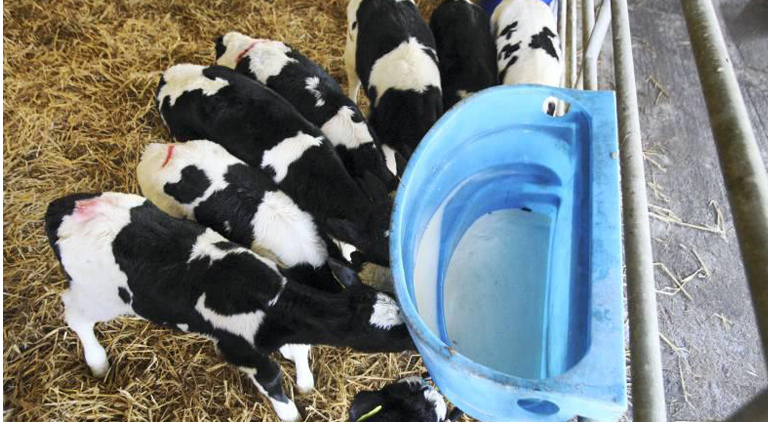 The Department has announced the details of the new Calf Investment Scheme (CIS). On the surface it seems like a great opportunity for farmers to invest and expand. However, as usual there is a lot of technical jargon hiding the important information! It appears that the proclaimed 40% isn't quite as it appears! Here at Agridirect we have taken the time to sift through the excess information and give you whats important. Hopefully it will help some get a better idea of what will be expected of them before signing up.
How to Apply?
Like all these schemes the application form can be done online by you or your adviser: how you normally apply for these schemes! If you have a herd number, are 18 or over and have at least 5 hectares of "eligible land" from 2019 basic payment scheme of course! (I assume anyone hoping to raise calves meets these requirements.) The form itself is straight forward. After you give your name, address, herd number etc, you will have to fill in what items you are hoping to invest in.
What can you get?
The items you can invest in are broken into two categories; CAT A and CAT B. You have to select at least one item from CAT A before choosing any item from CAT B. There are 3 items to choose from in CAT A: Category A
1.Calf Feeder
This can be any type of teat feeder as long as it has a minimum of 6 teats and is purchased from new. Therefore any of the feeders you can find in the below links will qualify for the Scheme. It is up to you to decide what one will best suit your farms requirements. Be aware that going by the departments reference costs it will take fourteen 10 teat feeders to qualify on their own. Unless you are going into calf rearing in a big way you will need to add other items to get to the €1000 spend.
It is up to you to decide what one will best suit your farms requirements. .
2.Automatic calf feeder
The automatic feeder will obviously be a bigger investment. It has to be bought new and be stamped with a unique serial number to be eligible. The Maximum covered under the scheme is payments to €7500. This means you will only be eligible to a max of €3000 payment and will still have quite a large investment to pay yourself. Particularly as many Automatic feeders available are above the 7500 ceiling and the full cost above that will be your own. However, if you are already planning on rearing a lot of calves and need to save time and labour costs then €3000 off the price is not to be scoffed at. Again it will depend on what you need for your farm.
3.Milk Kart.
The Milk Cart also must be new, have a tank, lid, minimum of two wheels, one handle, a tap/valve and be easily cleaned. Straight forward enough. Where some might be caught out is that it also must have a MIXER! This reduces the amount of karts available that will qualify. Karts with a heater also do not qualify for payment. The reference cost is for a basic mixer model and if you go for a higher spec you will be covering the additional cost yourself. The two below do qualify. Be aware that even though there is a large price difference in both these models you will only receive the same funding towards each and will also need to add other items to the application to qualify for the scheme. Milk Kart with Mixer Milk Kart with Mixer and Pump
Category B
As in Category A, any item purchased from Category B must be purchased new. The items you can choose from are:
Feed barriers

Pen Dividers
What to consider when choosing.
While the item you require will depend on individual farm situations, there are a few things to note before entering into the scheme. Firstly the scheme has a minimum and maximum limit.
The scheme only kicks in at the €1000 investment mark, meaning you must select enough items to bring you to this mark.
At this mark you will receive €400.
The scheme also only covers the first €7500 investment, meaning that the maximum you can receive is €3000!
Another thing to note is that any purchase made on or after the date of application may be eligible for payment if accepted onto the scheme.
However you run a risk of not being accepted into the scheme and receiving no payment.
It is advisable therefore to hold off from purchasing until approval has been received.
How to work out how much the scheme will cover
This is where the usual department skulduggery comes into play.
Although they sell this as a 40% of cost scheme, they have put forward reference costs for each item.
They say that payment will be base on the reference cost, 40% of the item purchased or 40% of the total of all items purchased up to €7500.

However when you look into it the reference cost is what they will go by regardless of spec.
For example if you are to purchase a 170ltr milk cart their reference cost works out at just over €900.
This means it wouldn't even qualify for funding under the scheme on its own and you would need to add a trough or other item to get over the €1000 minimum requirement.
This is regardless of how high a spec of cart you go for or even how much you actually end up paying.
For example if you wanted to buy a 170ltr kart with mixer and pump you would still only receive 40% of the €900 odd price they place on it, even though it will cost you over €2000. You will also still need to add another item to even qualify for payment.

In addition milk karts with heaters are completely excluded from qualifying for payment. Therefore it is advisable to look at the departments reference cost per item to the true maximum per item you will be eligible for.

Their formula's for calculating the CAT A items are as follows.
Feeders-- (14.584 x no of teats) + 32.525= reference cost
Computerised feeder-- 1534.8 x No of stations+7540.60= reference cost
Milk kart-- (6.5453 x 170)-185.53= Reference cost

This reference cost will then be multiplied by 0.40 to get how much they will pay towards the item.
For example 10 teat calf feeder = (14.584 x 10) + 32.525 = €178.29 x 0.40= 71.31 (Would take 14 to qualify for funding)
2 station computerised calf feeder = (1534.8 x 2) + 7540.6 = €10,610 ( total over eligible amount. You will receive 40% of 7500 which is the max allowed under scheme giving you €3000)

170 Milk Cart with mixer = (6.5453 x 170) - 185.53 = €911.48 x 0.40= 364.59 (but not eligible on it's own.

You need to be aware of this reference cost issue before deciding on what to purchase. I advise only going for the minimum required as this scheme will not cover 40% going for the highest spec options. Unless the highest spec is what you need and were going to purchase already, it is not worth going for just because of the scheme!
After Approval
Once approved for the scheme you will have until the 30th of June 2020 to purchase the items and return a "claim for payment" form. For 4 weeks after this date any late applications will receive a 5% reduction for each week delayed and after the 29th of July you will face a 100% reduction in payments.

Basically you'll get "diddily squat", as my auld lad would say when he's trying to be polite! Also be aware that claims are exclusive of VAT so you will be responsible for claiming this back afterwards if applicable.

Another note worthy clause is that Cash and third party purchases are ineligible. Items must be paid from a bank account with the applicant name associated. You cannot pay a check to your wife/brother/son/daughter account and then pay with their card unless their name is associated with the herd number.
What you're signing up for!
When you sign into the scheme you are agreeing to use the items purchased for their "intended purpose" for a minimum of 3 years. That means it must be used for calf rearing only.
If at any time over the three years after receiving the payment, you receive a department inspection you have to be seen to be using the items for calf rearing.
This means you cannot adapt the items for rearing lambs, kids or foals. You cannot be seen to use them for storage and you also cannot have sold them on! (However, the FAQ sheet does say that suckler farmers are eligible to apply. They do not state if they need to be seen purchasing and rearing calves or just to have them for rearing orphaned or sick calves. As the minimum sizes of items are of a nature for rearing larger quantities of calves, it would be wasteful to be purchasing for such a purpose.)
Is It Worth Entering?
Overall the Calf Investment Scheme (CSI) appears to be a scheme with very little "strings" attached, with the only real requirement being a commitment to use the investment purchases for their "intended purpose" for 3 years and if damaged within those 3 years to replace or repair them. If you had been thinking of getting into rearing calves, or are a dairy farmer requiring extra equipment to rear your own calves, then the CSI is worth applying for.

The only drawback is that if the scheme is over subscribed the amount allocated to each applicant will be reduced.
However with 1.5 million allocated and the fact that the reference costs will likely turn many farmers off from even bothering with the scheme I can't see it being over subscribed. I could be greatly mistaken but I think many farmers will be turned off by these reference costs limiting what they can buy.

I hope this has helped some of you with your decision. If you have any further queries about any of our products qualifying for the scheme please feel free to contact us directly and we will help in any way we can.

Best of luck with your applications!

RGA