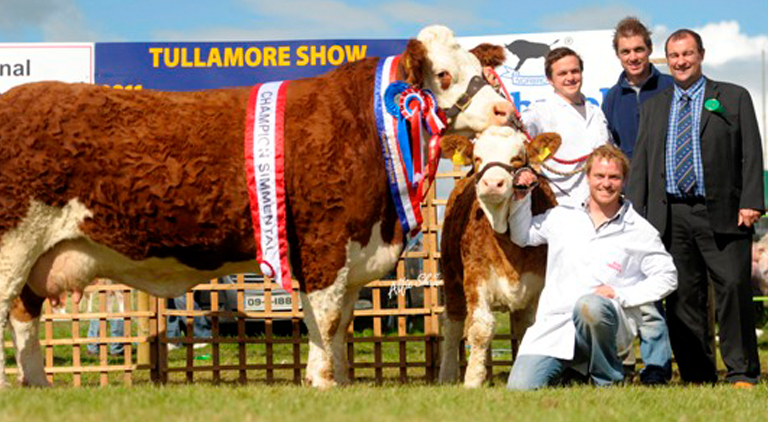 Yes it is show season again so we've put together a few tips for those wishing to show some livestock this year. Livestock shows bring a lot of life to communities over the summer and it's down to those who take the time to bring their animals out. So whether you are new to the showing and need some advice starting out or a seasoned pro needing a few reminders for the coming season, hopefully these tips will help you on your way.
Don't Panic!
The first rule is not to panic. Stay calm and evaluate what shows suit you to enter, how far you can travel and how much you are willing to spend are the first questions to answer. Don't enter every show! Select some smaller ones closer to you to get your animals into the swing of it and then if you decide you like the experience look at some bigger ones and decide which ones logically make sense for you.

Don't end up like some people I know who booked themselves into too many shows all over the country and had to go straight from one in the north west to one in the mid-east the very next day. They had trouble getting feed transported from home and getting someone to cover the farm work!
Have your livestock harness trained.
If you intend on showing livestock particularly cattle and horses this year you need to ask the question "are they ready". Are they going to stay quietly tied beside other cattle with large crowds of people milling around? Are they ready to walk beside you around the ring? At this stage in the year you should have them well trained to the harness and being handled. If not you might be better leave them at home and join the spectators.
Have yourself/ the person leading the animal trained
It is vital that the person leading the animal has gotten used to the animal and that they know each other. If the animal is used to the person working it, it will be a lot calmer and less likely to be stressed or panicked by the large crowds, noise and cameras flashing. The best person to work the animal is you but if you have someone else lined up get them working the animal well in advance.
Have help for the day
It can be a long day at the show and it can be too much for one man. You will need at least one other person to have the craic with, but if you have a lot of animals for show you will need a team with you. Finding time to get your animals looking their best takes a lot of time and if you have more than two it's unlikely you'll have time to get all done. But most importantly you will need to have someone with the animals when you have to leave to eat or show the animals. Not only is there a risk of theft (as a high profile case showed recently), but animals left without someone they know are more likely to get panicked and the risk of doing damage to themselves or worse to the public increases.

There is also the risk of the children running around the animal and getting injured. I was once at a show where a bull that had been calm all day, was left unattended when some kids started squirting water guns around him, (I think it was probably at him but have no proof). He got scared enough to rip his nose ring and only for the quick thinking of some other farmers, getting him directed to a trailer the situation could have been a lot worse. So if you want to have a chance to see the rest of what the show has to offer, it is best practice to have someone you can alternate with.
Have all the essentials packed
Before you head out the gate, ensure you have your essentials with you. Spare harnesses are always advised as you never know what can happen and it's always advisable to have spare ones on stand-by. A hammer, cable ties, spare rope/chain, staple gun, duct tape and the farmers friend vice grips are all must haves. You may not need all of them but you're sure to need at least one in the course of the day. Other musts are Shampoo, clippers, brushes, combs, buckets and sponges.

Even if you have the animals looking their best leaving the yard, the trip to the show grounds is never going to be totally clean and throughout the day you are going to need to do some touch ups, especially in the heat we've been experiencing.
Have your own water on standby
It's always advisable to bring a couple of gallons of water with you for washing and drinking purposes, even though most showgrounds will have water rolled out to holding areas, it can sometimes only be one or two water areas that you will have to draw water from, and with large numbers of contestants trying to use the same point queues can form. This can lead to long delays in getting water back to your pen/stand, meaning your animals could be put under extra unwanted stress. So having your own back up supply on standby is always useful especially in hot weather.
Bring a picnic for you, and the livestock
There's usually food available at the show grounds but this is another potential queuing nightmare and if you're busy grooming and showing you don't have time to waste queuing; not to mention the prices at the stands aren't usually the same as you'd get in the local cafe! Food for the livestock is a must and you'd be surprised the amount of first timers that fail to bring enough or any. There won't be food for the animals at the grounds and you don't want going into the ring with hungry looking animals.
Have a gazebo or similar to cover your animals!
If you are going to take showing your animals seriously, you will need some cover for your animals. Whether it's to keep the blazing sun from dehydrating them, or to keep the rain from messing up your grooming work, you will need something to offer protection to the animal. You can get small gazebos that will work perfectly without having to break the bank.
Get to know other contestants
Take some time to strike up a conversation with others showing livestock. You can make some great connections, find buyers for your livestock and learn some tricks of the trade from just taking a break from grooming and striking up a conversation. You might even end up with a drinking buddy and somewhere to crash for the night, depending on how far you've travelled. Whatever the result it's always well worth getting talking to others because it's a relatively small showing community in Ireland and a very friendly one.
Have fun!
Speaks for itself but there's no point in going through all the hassle if you're not going to enjoy the experience. Although it is a competition don't get too competitive. Enjoy the banter, take time to enjoy the day and exchange tips with others. You're never going to win them all so remember it's the taking part that counts. So finally to all those showing livestock this year I offer a huge thank you and best of luck, on behalf of all the communities who you help entertain.

RGA